This holiday season brings back a lot of memories and maybe that's one reason why the holidays can be so difficult. Family is always one of the greatest assets during Christmas. I've always believed that this is the best time to get together with family… to spend a few days cuddling together, especially in the cold but of course to catch up on some of the good things that happened throughout the year.
But instead of fighting myself to forget all the good times, regardless of the bad, I thought maybe, while drawing on some of those many memories, why not share them?
So I want to talk about growing up in Jamaica with my family during Christmas. There are many similarities between Christmas here in the States and Christmas on the islands – whether, its in the music, the food, the rituals or just the holiday season itself but there are still many differences.
-Christmas Eve – On Christmas eve, towns are crowded. No surprise there… everyone is shopping. In Jamaica, there is a name for this: "Grand Market". It might be similar to Black Friday in terms of the price offers and it can get just as crazy. One aspect of 'Grand Market' is 'night shopping'. I can't forget how much Jamaicans loved to do this. This was mostly for the younger generation though and it was basically spending the night in the streets while on a shopping spree. Traditional Christmas didn't require a Christmas tree and of course, Jamaicans don't have Chimneys so there wasn't the anticipation of Santa. But the tales of Santa was in my heart while growing up, as much as it was in yours.
-A typical Christmas morning starts with church. This wasn't the best moment for me, because I didn't like going to church. But something about that ritual reminds me why it wasn't so bad after-all. I spent Christmas at my grandmother's house, because that's where all the family come together (from generation to generation) and on Christmas morning my grandmother would take her grand children to church with her. So we would be up by 6 in the morning and out for a two hour church service, before returning home for Christmas breakfast. This was a special time for me – time with my family, especially my cousins was priceless.
-Food. This was one of the best part of Christmas. Sorrel, Christmas cake (with fruits, rum and raisin), akee and saltfish, festivals, ham (with pineapples), curry goat, 'rice and peas', just to give you a taste. Back then, Christmas wouldn't have been Christmas without this mix. The most iconic beverage at Christmas was 'sorrel', a red drink with (or without) an alcoholic base.
-The celebrations – Jankunu!!! A fun to watch and to participate in, kind of costume street parade. My most memorable account of this, was during a school play where I played the character "Cow Head" (a depiction of the figure shown below). Jankunu to me is equivalent to gay pride, lol. But they are both symbold of liberty and community.
Also, on Christmas, nothing unusual, but I get to see the most familiar faces in my family. We had a big family reunion. And I said that because it was a really big family. We had so many people sleeping over at my grandmother's house that there were people sleeping on couches and on the floor. But it was all fun nonetheless.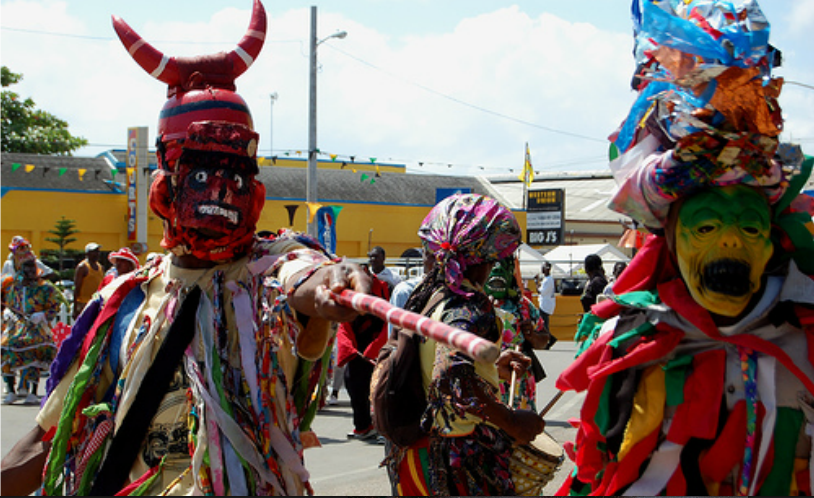 -The weather – do I need to mention that every Christmas was warm and sunny? Man, we wished for snow every Christmas. All we had were myth about snow falling in Jamaica. Before moving here, the closest I got to snow was from watching movies. We watched classics too: Home Alone, Elf, The Polar Express, How the Grinch Stole Christmas, Frosty the Snow Man, you name it.
-The Music – Jamaicans have probably remixed every single popular Christmas music into reggae. Being much older now, music helps me to relive what Christmas was like growing. Good memories maybe?
But with this and many more, Christmas will always mean the same thing to me no matter how older I get and I see that from my memories. Every Christmas I just want to keep adding to that meaning and its simply one of love, peace and tolerance.
Feel free to share your Christmas memories as well, would love to hear it!!! 🙂